We arrived in Trivandrum at 3 a.m. on December 12. The airport was packed, but we managed to get all our luggage and find our way to Kovalam Beach area about 30 kms away. Our newest FBR member, Steve Black, was coming in the next day, and so we decided we'd hang out here for a week and all get adjusted a bit to India before taking off.
Kovalam turned out to be a tourist area. We still managed to find a hotel room for a decent price (500 Rupees/$10) and some pretty good food to get us by each day. We spent these days relaxing, swimming, using the slow WiFi, or walking around the area. Kallie and I got outfit with Indian clothes, as we had ditched our warmer European wear back in Istanbul. This of course turned out to be a good decision, as our average temps have been about 90 F.
On a Tuesday morning we hit the road, fully loaded and interested to see what cycle traveling in southern India would bring. Our first day was a bit slow, and entailed winding down the coast toward the southernmost tip of India on smaller roads through villages. We found the road surface to be dicey and often had to slow for speed bumps. Many motorcycles carrying two or more male passengers buzzed their horns and hooted hellos. Coconut and banana trees lined the roads, offering some relief from the burning sun. Huge Indian style cathedral churches appeared around every other bend, and there were large stars hung everywhere in preparation for Christmas.
On a swimming break in the ocean we suddenly found ourselves in the middle of a fishing operation, and so we got involved. One boat had brought a net way out into the sea, leaving both ends on shore about a km apart. A line of men rotated through pulling the net ashore. It took about two hours, but finally the net made it in with a basin full of small fish.
That evening as we were stopped for dinner, a young man on a motorcycle greeted us in excited and profuse English. His name turned out to be Grigio Shery, and he informed us that we could stay with the nuns back at St. Judes. He would arrange everything. Back at St. Jude's after supper we found a private room with an attached bath, a secure courtyard where we could keep our bicycles, and classroom with a fan for the boys to sleep in.
With Grigio Shery in Chinnethurai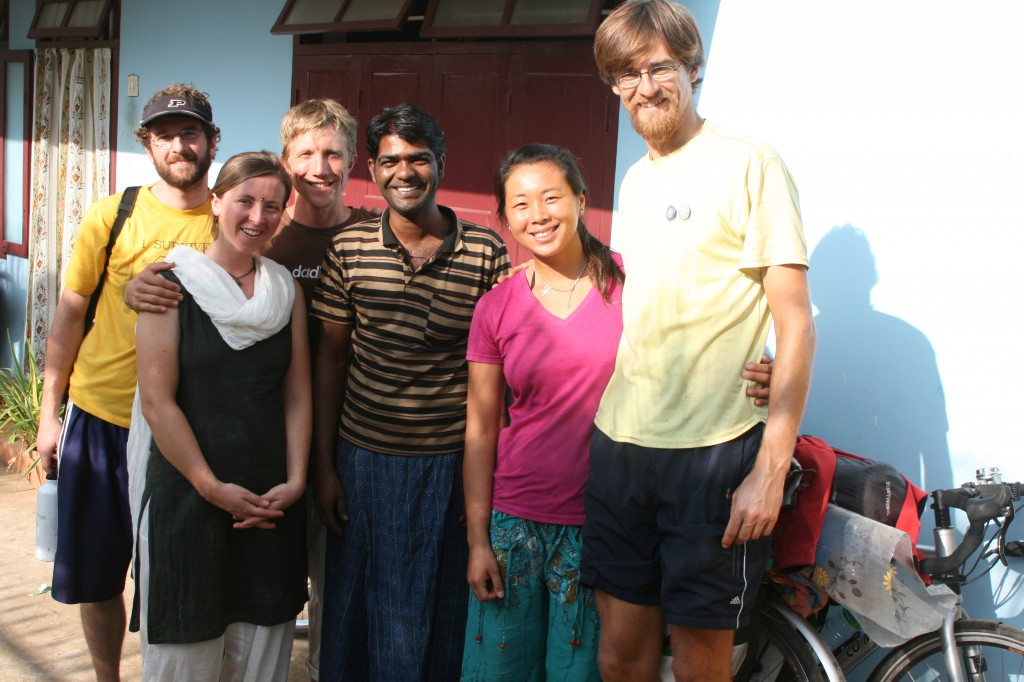 The next day we made it to Kanyakumari, the southernmost tip of India where one can watch the sun rise and set over the same body of water. This was also a touristy area, but the difference being we saw very few Europeans. Here the tourists were almost all other Indians, many from the North. We stayed two nights in Kanyakumari before heading back north, toward the mountains.
At the southern most tip of India, Kanyakumari.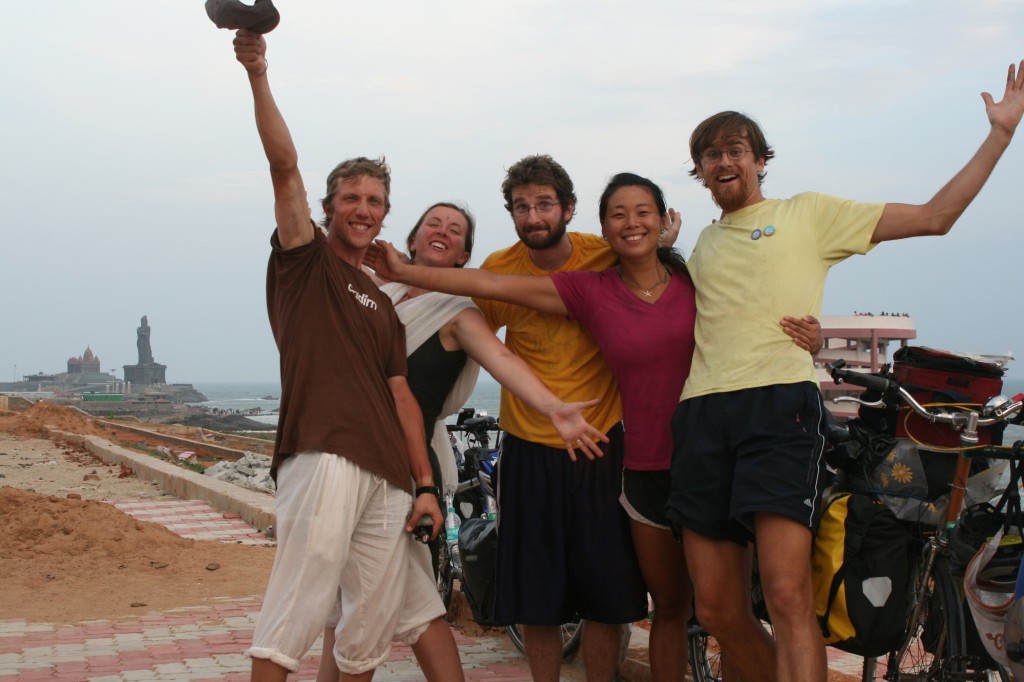 The scenery was beautiful leaving Kanyakumari; we were surrounded by rice paddies, lakes, and coconut groves out of which towered escarpments of mountain. The road was fairly quiet, and as we climbed we began to notice plantations of rubber trees, the bark scarred in a specific pattern to collect the "milk" which would become rubber. That night we stopped to find a quieter place to camp outside of the hustle and bustle of cities, but we ended up at St. Anthony's high school run by sisters. Sister Carolyn welcomed us in, and again we had a room, a shower, and a secure location for our bicycles.
So far in India we'd been doing 40-60 km per day, not because we couldn't go farther, but because of various factors including later starting, heat fatigue, conversations with the curious, and slower processing of decisions. After St. Anthony's we were ready to do some riding with hopes to make a 70 km day. Unfortunately the road was less than ideal, and our average speed was reduced to about 10 km per hour. Just when we found a stretch that was a bit better, we were flagged down by Ani. Ani had met us earlier on the road and now he was at his house, waiting for us. He and his wife had some fresh green coconuts for us to drink, and they urged us to stay the night. It was only 3 p.m., but we decided to stay, as this was our first home stay invitation, and the setting next to a reservoir lake was absolutely beautiful. We stayed a full day, and they fed us fish curry, steamcakes, rice, bananas, and plenty of tea. When we tried to offer them a gift of money for Christmas and for their kindness, they wouldn't take it.
A homestay With Ani and his family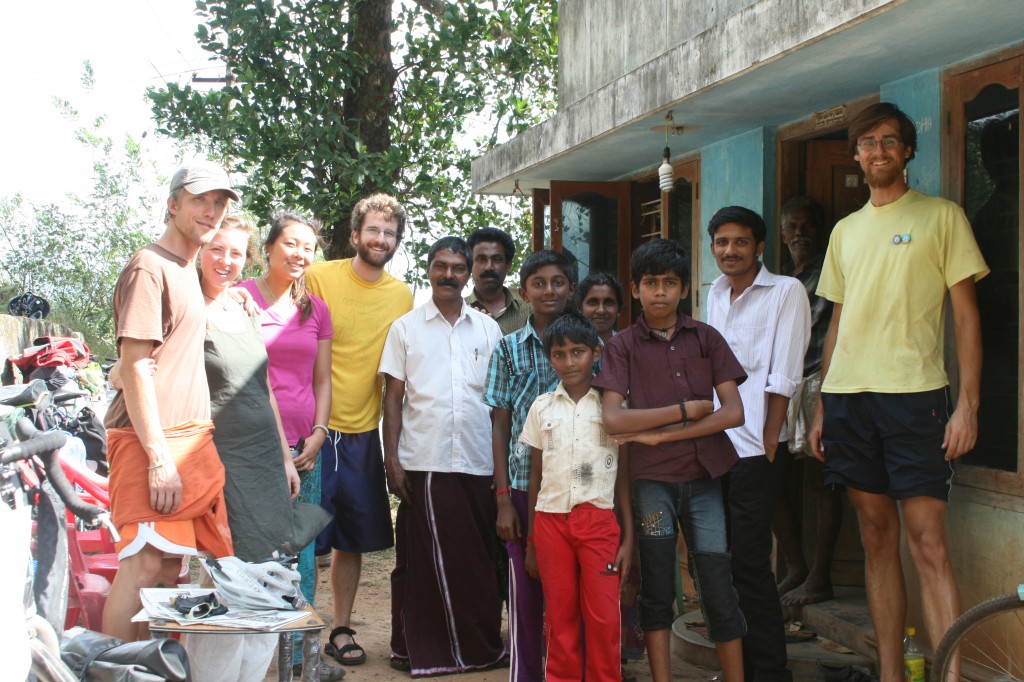 Giving our host, Ani, and one of his sons a ride on the tandem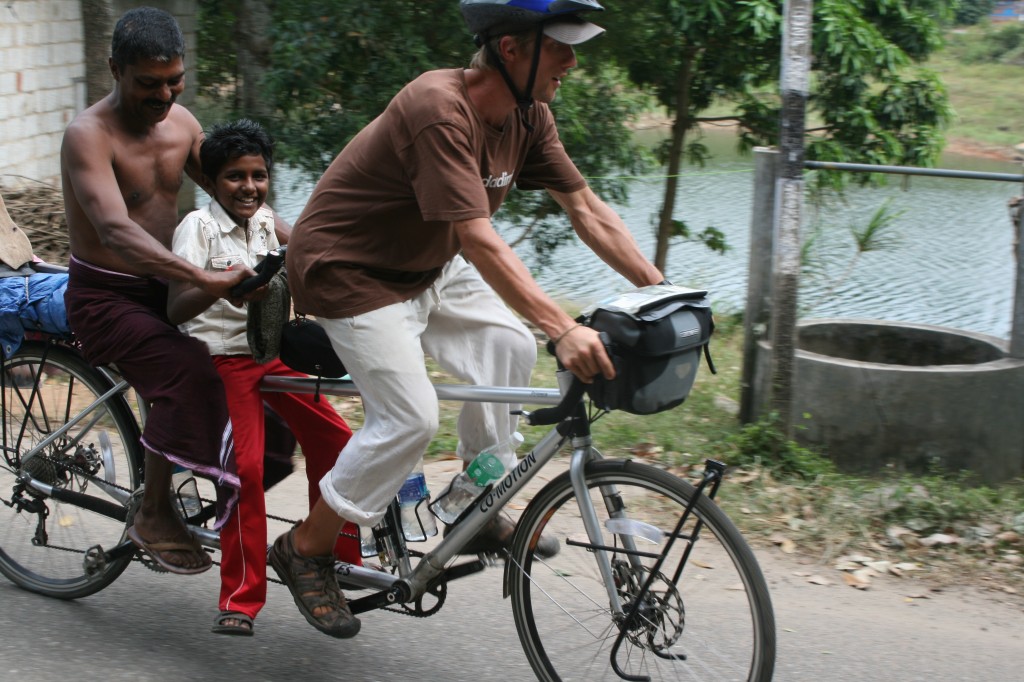 Our next stop on the map was an Ashram near a lake, but when we arrived we found the rules a bit too rigid–we had to stay at least three days, sleep in the dormitory, follow the daily program, and eat only non-veg food. We were hoping for more of a peaceful relaxation near a lake. So we decided instead to stay with Jose. Jose owned a private tour company, was a taxi driver, taught Karate, was the president of the Christian association in the area, and also involved himself in local politics. He was expanding his house to do home stays. We ended up spending three days in the area, and Jose helped us get up to Pon Mudi ("golden peaks"), where we found a resort hotel near a clean swimming river in a lush mountain valley. There we celebrated Christmas.
After Jose's we put in a full biking day and ended up staying in the home of Thomas Matthew and his wife. They were gentle but generous hosts, and I for one was grateful to be in their large upstairs with our own bathroom because that's when I got sick. It passed through me quickly, but mine was the first of a string of GI type illnesses that hit next Steve, and then Kallie and Lindsey. So we are now in Rajaplayam, Tamil Nadu, on our way north to Madurai, but we sprung for an A/C room for a couple days here to see if we could gain our collective health and strength.
With Thomas Matthew and his wife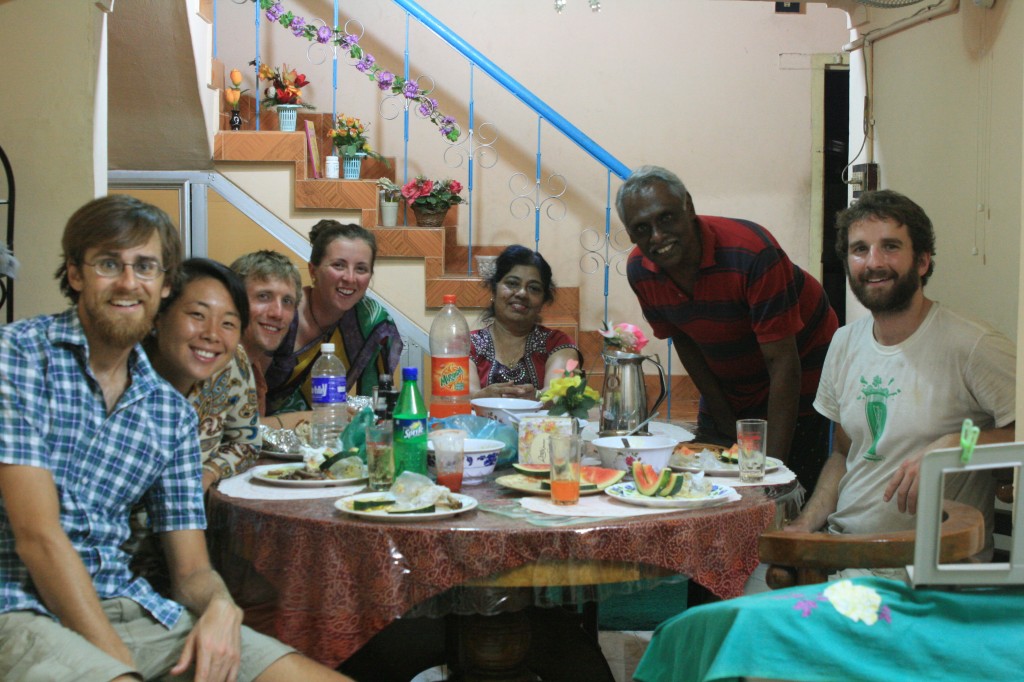 Thanks for catching up with us. We have been somewhat hard-pressed to find reliable internet… or at least have not yet learned the best method to do so consistently with our India schedule. Please do keep us in your browsing patterns. We send our very warm New Year's greetings and well wishes to all we've met and to our friends and family back home.