"For me the sea has always been a confidant, a friend absorbing all it's told and never revealing those secret; always giving the best advice – its meaningful noises can be interpreted any way"
– Che
It's no secret that I'm exulted by being near the ocean. Biking along the Mediterranean coast was a highlight of the trip for me. During our first encounter with the Mediterranean Sea in the south of France, I can still remember the feel of my fingers skimming the glistening water in Port Grimaud, France and the water was so clear that I could see the bottom even as I waded into deeper and deeper water. I looked at all the shades of blue, widening my eyes behind my sunglassses as though that would let me take in more. My happiness in that moment was multiplied by the knowledge that the physical world could bring on this kind of pleasure. It made me content to know that I could be moved by nature, independent of human relations. It was a one-way relationship, but beautifully simple.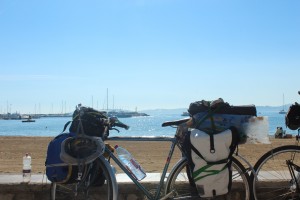 Even as I was being dazzled by the prettiness of the Sea, I couldn't help but think of the perversity of the fact that my airbrushed fantasy had actually come to life. Often times in life, things are not what you hoped for. But most good travel stories are about discovering the unexpected. The traveler goes abroad with an illusion, the illusion is shattered, but then she learns something new, and after assorted challenges and humiliations, she achieves a satisfying epiphany. As I reflect back on the bike trip from an albeit short distance, I believe that I have cycled through all the above phases except the last, which I am still working on and refining. I'm still trying to absorb and reflect on everything that has happened in the past five months while trying to keep in mind that memories have a funny way of filtering out the negative and crystallizing the positive. I've had numerous epiphanies scattered throughout the trip, both internal epiphanies about myself as well as external about society, the world, the meaning of life, etc. One such internal epiphany that I disgrudgingly accepted over the course of the trip was that perhaps I wasn't quite as flexible as I had thought and hoped to be. When you bicycle travel with a group of individuals, the group dynamics can be even intense than living in a group house. Every decision you make on a daily basis somehow affects the other individuals in your group. Group decision-making becomes akin to sailing a boat through a tropical rainstorm on the Indian Ocean. Sometimes it feels like you have very little control over your own life and you have to learn to balance being flexible and open to decisions that aren't necessarily in line with your own values and preferences with maintaining open and comfortable communication about your opinions in a nonviolent manner. As an only child faced with this reality, the bike trip was an excellent lesson in being flexible, learning to let go when you don't get your way, and showing compassion and empathy for others when making decisions. In fact, I could say that the best kind of travel involves a particular state of mind, in which you are not merely open to the occurrence of the unexpected, but to deep involvement in the unexpected, and even open to the possibility of having your life changed forever by a chance encounter. I started the bike trip in Germany with certain hopes and dreams and expectations. Some were fulfilled, some were not, but everything that I experienced was life-changing, even if I'm not fully aware of it at the present moment. That's what travel is and does to a person. Although everyone has their own reasons for traveling, it's impossible not to be changed by the things you see on the road, the people you meet, and the experiences that leave an indelible mark on your heart and spirit. You go out into the world a sponge, and everything blows you away- the first public bathing experience in a stream, the first night sleeping in a tent at the foothills of Mt. Olympus, even the first palm tree. Then as you absorb more and more of the nuggets of truth and beauty from the road, you become heavier and more capable of standing steadily on your own two feet without being rocked by the tempestuous winds of life.
Many times as we biked along the coast in Italy and Greece, I found it hard to believe that the beachside towns we passed through were once a bustling haven of adventurous energy from vacationers eager for seaside relaxation or a summer romance. Most of the stores lining the streets were closed down, the tables and chairs were stacked outside the outdoor cafes, and a few stray dogs straggled down the street looking for any scraps of food around. It felt as if a zombie apocalypse had engulfed the town, leaving only a few vestiges of the town's former life or it was just winter: the off-season. Although these towns often appeared lifeless and depressing at first glance, the more I thought about it, the more I became aware of the value in seeing and experiencing this un-commercialized and un-advertised facet of these towns. And I realized that that is what bicycle touring is all about. We take the small roads that weave through small no-name towns that most tourists miss when they jump from city to city on a bus or train or plane. But really those back country roads and the country-side are often times what make up the majority of a country, geographically at least. A fair share of our most valuable interpersonal experiences involved spontaneous encounters with inhabitants of smaller towns who were not accustomed to having tourists flocking around. In such an environment, you, the tourist, are not merely a walking bag of money. People are genuinely interested in who you are, where you are coming from, what you're doing in their home, and it is in this setting that the true essence of the kindness of strangers emerges.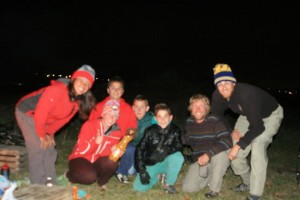 Although we often valued and prioritized taking the smaller roads that went through the smaller, non-touristy areas, the first town we arrived in India was called Kovalam in the southern Indian state of Kerala. It's the kind of place that's billed as "tourist haven" in India. The beaches are clean and there are trash cans, there's a boardwalk lined with merchants selling "India" in the form of punjabis, jewelery, and paneer butter masala. We rented a hotel room right on the boardwalk with a balcony overlooking the beach. Although it was not FBR's typical sought-out destination, tt was a comfortable introduction to India, to say the least. One day as I was sitting on the beach, absorbing the salty air and listening to the push and pull of the waves, a street beach dog wandered into my sphere of awareness, lazily swinging his canine tail before coming to a complete halt at the base of my feet and slouching on the boardwalk with all fours stretched out. He seemed to calmly consider the landscape, completely at ease in his habitat. I wondered how and if people could ever get that comfortable with themselves. Some people talk about "finding themselves" in their travels, but maybe you had to get lost first. When you are continually exposed to more than one culture as is often the case in travel and certainly true for us as we made our way across Western Europe into Eastern Europe and India, sooner or later the anthropological question arises: How much of who I am is defined by the world around me, and how much is something more innate? Is it ten to one? Fifty-fifty? The obvious way to find out is to move from one context to another. That is essentially what we did throughout the bike trip as we biked from Western Europe to Eastern Europe to India. Putting ourselves in new situations acts as a purifying fire, charring away all the dross and leaving some essential self. Travel facilitates the peeling away of layers of yourself to reveal your inner essence.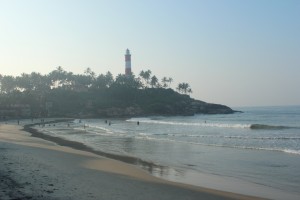 We started our Indian adventures in a tourist vacuum, and we also ended our time in India in a similar tourist town, Mamallapuram, about 50 km from Chennai. I recall one day Peter and I were walking down the beach in Mamallapuram, enjoying the quiet solitude of just us and the beach, the rolling surf, the footprints we left behind in the sand, a rare occasion amidst the chaos of India. Just as we were reflecting on our experiences in India and the bike trip as a whole, my eye fell upon one of the great beasts herself, prehistoric and guileless, five feet wide under a hard, shiny shell. She had probably lumbered up to the beach to lay her eggs in the sand, programmed to reproduce against all odds. I suddenly felt unalloyed pleasure at the sand, the surf, the sunlight, and the turtle, even beautiful in its lifelessness. Beauty is so uncomplicated to love, I thought. I couldn't say the same for my feelings towards India, which I would describe as more of a mixture of love and hate at the same time. Throughout our trip in Western and Eastern Europe, I was looking forward to going to India, to finally experiencing something "new and more interesting" culturally. Europe was too comfortable, too familiar, too cushy. India was the opposite: chaotic, hot, and exhausting. In India, I think we all experienced certain levels of culture shock, most of it welcomed, some of it stressful, but all of it embraced. Usually, the slow travel of bicycle touring gives us time to adjust to a new culture. But, when we flew directly from Istanbul to Thiruvananthapuram, we jumped across the world in eight hours. The brain takes time to catch up. Jet lag is over in a few days, but culture shock lasts much longer and comes in waves. There's the initial shock of suddenly finding yourself setting up your tent in an Indian Temple in a random small town in rural India. Then there's the long, slow shock of staying in a new place, spending months or years discovering a new difference every day. In a new culture you stand on something more like water than land, and it goes on shifting under your feet. India was a lesson in learning to stand up right in one place, even as the tides are shifting every which way beneath you.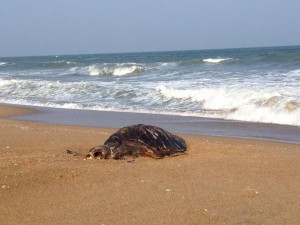 I say this now and I said this repeatedly throughout the trip: the last five months have really flown by at lightening speed. Although so much has happened, perhaps more so than during any other five-month chunk of my life, it all happened so quickly, too quickly. As I reflect on my experiences and reminisce about all the good times we had, I can't help but feel sadness and loss that the trip is over. Even if I could have stopped time, I knew it wouldn't have the desired effect, because something essential would be missing, some sharpness of focus made possible only by the fact that life is fleeting and that time is continuously ticking. All you have is gratefulness towards the present and making the most of each day, every day. Some may still say that I wasted five months of my life wandering across Europe and India, that I lost five months of my medical education and my duties towards "real life" responsibilities. But I disagree. I know that now I'll never wonder what it would be like to travel across Europe and India on two wheels, powered only by the strength of my own two legs or what the view is like from a monastery perched on top of a rock mountain in northern Greece. I'll never doubt myself in a strange land where I don't understand the language and I'll never be afraid to try soppy vegetable mush with my hands served on a banana leaf. I won't be cynical about human nature because strangers have helped us so many times. I can see that my ripped suitcase and bike box, as they tumble onto the carousel, are bursting with life.