My digital workflow has changed considerably on this bike trip. One reason for this change is because I'm traveling without a laptop (we do, however, have an iPad), and the second is because we are without electricity the majority of the time.
Storage
I back up all of my media onto a portable hard drive and then have a copy of it on another portable hard drive that I keep in a different bag. It won't help if all of our gear gets stolen- so I'm looking into the possibility of online storage.
Photo workflow
I shoot in RAW format. Since the iPad is unable to edit RAW files, I save a small JPEG copy on my card as well and then upload these to the iPad. I will be doing all of my editing (RAW files) back home after the trip, which works since I don't have much time to edit on the road anyways.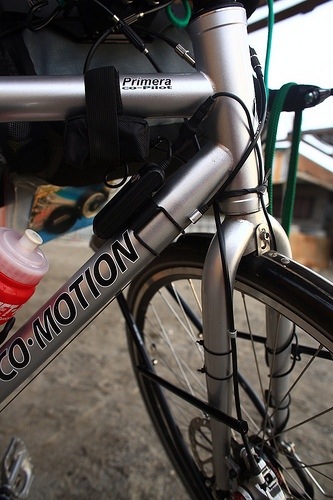 Power
We have a dynamo hub on the front wheel of our tandem that generates a small amount of electricity. The voltage is then moderated by the EWERK before it is charged by the small cache battery. I plug in my iPhone to the battery every night and when I wake up, it's fully charged. The battery does an awesome job of charging my iPhone that we use as a GPS. The battery, however, isn't able to charge the iPad- so we're looking into a solution for that.
iPad vs Laptop
My laptop from college has been on its last leg for a while. The wireless card is broken so I can't get on wifi, and the battery is completely dead so I need to have access to an outlet. It's also pretty heavy and would add about seven pounds to my already overweight bag.
So, we decided to just go with the iPad! The iPad with a keyboard has been great for emails, web browsing, blogging, etc. It would really be cumbersome without the keyboard, so I would highly recommend investing in a keyboard if you are going to travel solely with an iPad.
We also recently got an iPad camera connection kit so I can upload pictures from my camera to Facebook, Flickr, and the blog.
The downside of not having a laptop is not being able to edit photos and videos. This is ok since there isn't much time or energy to sit and color correct, edit, etc. I am, however, dependent on a laptop fix every once in a while so I can transfer my photos, videos, audio files to my hard drives.
Overall, the iPad has been great. If you are only taking JPEGS on the road, I don't think you'll need anything more than an iPad, keyboard, and camera connection kit. If you are a more serious photographer, I would recommend traveling with a laptop (if your laptop is in better shape than mine is!) You can get by without one, but I've been hindered a few times when I run out of memory cards and I need a way to transfer files to my hard drive.